Trade News
Each day TFO Canada publishes a sample of trade news on the Canadian import market along with any new, updated or changed regulations and legislations regarding international trade; countries in which TFO Canada offers services and on the export sectors which it promotes.
Indonesia's services sector has great potential, Trade Ministry says
Monday, January 21, 2019 > 10:18:20
Tweet this
The Jakarta Post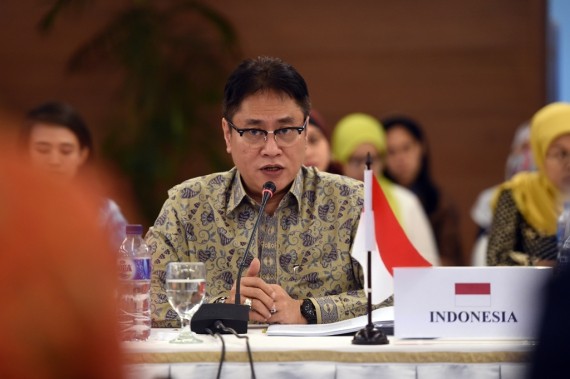 The Trade Ministry's director general in charge of international trade negotiations, Iman Pambagyo. (Courtesy of Trade Ministry/File)​

Stakeholders are seeking to amplify the role of Indonesia's services sector to manage the country's current account and balance of payment in the face of dwindling commodity prices and a stagnant manufacturing industry.

Between 2010 and 2017, Indonesia's services sector grew at an average of 7.1 percent per year, much higher than the manufacturing and agricultural sectors at 4.4 percent and 3.7 percent, respectively, according to Statistics Indonesia (BPS).

"The more advanced a country becomes, the larger a role its services sector plays, especially as Indonesia is keen to implement the fourth industrial revolution, or Industry 4.0," the Trade Ministry's director general for international trade negotiations, Iman Pambagyo, said at a recent seminar in Jakarta held by the Centre for Strategic and International Studies (CSIS).

"Among ASEAN countries alone, Indonesian [services] have entered sectors like engineering in Myanmar, business services in Singapore and construction in Vietnam [...] not to mention the development of [mobile] apps and animation works Indonesians sell to foreign companies that must certainly be valuable."

Unfortunately, Iman said, the data available on Indonesia's services sector is scarce, and Bank Indonesia (BI) and the BPS — who are in charge of collecting them — do not offer a comparable database to the international standards used in trade negotiations.

This has limited the sector's potentials, which according to the BPS, had contributed a whopping 43.6 percent to the national GDP in 2017.

The lack of data, Iman added, also downsized Indonesia's position in the trade talks it was involved in as they were heavy on services-related discussions, such as the Regional Comprehensive Economic Partnership, the Indonesia-European Union Comprehensive Economic Partnership Agreement and the Indonesia-Australia CEPA.

"We do not have clear data and accurate mapping of the sector, so we are unable to come up with proper policies or distinguish which sectors we should open more in order to allow services to develop."

If authorities do not carefully tend to the situation, not only will Indonesian services lose to competition overseas, it would also be threatened by foreign suppliers eyeing to serve the country's booming middle class, Iman added

CSIS senior fellow and former trade minister Mari Elka Pangestu cited a study by the Organization for Economic and Cooperation Development (OECD), which found that Indonesia is one of the most restrictive countries for service traders.

In the OECD's 2017 Services Trade Restrictiveness Index, Indonesia was found to be the most restrictive in legal, distribution, insurance, telecommunications and maritime transport services, compared to 43 other countries the study observed.

"The absorption of service workers is moving more toward informal sectors [and] menial jobs in trade and construction, while there are fewer workers in the more modern, high-skilled services sectors," Mari said on the same occasion.

The lagging development of services, she said, also played a part in Indonesia's lack of participation in the global value chain, which requires human resources to bring more added value to physical goods.

"We will not be able to get to the top of the value chain unless we have the proper services to support more added value," said Mari. "This underlines the importance of developing the modern services sector so that it could sustain Indonesia's competitiveness in every other sector."

Devi Ariyani, executive director of the Indonesia Services Dialogue (ISD) council, said service traders had been looking forward to the revision of Finance Ministerial Regulation No. 70/PMK.03/2010 on taxable exported services, which will encourage more exports of services.

The regulation relieves three sectors — construction, maintenance and makloon (a third party providing customized services, usually on clothing and garments) — from a 10 percent value-added export tax.

In October 2018, the ministry's director general of taxation, Robert Pakpahan, said a revision that would relieve at least three more sectors was underway.

"Further, the government should also pay attention to market access and capital inflow for Indonesia's services sector, so that its providers would be able to earn proper revenue," Devi said in the event.