Trade News
Each day TFO Canada publishes a sample of trade news on the Canadian import market along with any new, updated or changed regulations and legislations regarding international trade; countries in which TFO Canada offers services and on the export sectors which it promotes.
Export and FDI-led growth trajectory is challenging but only option for Sri Lanka: Malik
Tuesday, July 24, 2018 > 10:01:47
Tweet this
DAILY FT

Released on Monday july 23, 2018

Development Strategies and International Trade Minister Malik Samarawickrama last week emphasised on Thursday that transition to an export and FDI-led growth trajectory is challenging but it was the only option for Sri Lanka – if we are to create better jobs for our young people. It is the only way we can be sure of making a sustainable transition into a higher income economy. Following are excerpts of the speech delivered by Development Strategies and International Trade Minister Malik Samarawickrama at the launch of the National Export Strategy last week.

Today is a landmark occasion for the Sri Lankan people and Sri Lankan entrepreneurs. The launch of this 5-year National Export Strategy is aimed at accelerating our export growth, creating higher income jobs in the export sector, promoting new enterprises to become exporters, and attract FDI into export-oriented sectors. This Strategy has been formulated over many months with very active and direct participation of the private sector – without which it wouldn't have become this very actionable Strategy that it is today. At the outset, let me congratulate every single Sri Lankan stakeholder – public or private –who was involved in putting this together, and also thank the ITC and the EU for their continuous support to make this possible. In particular, I thank Madam Arancha Gonzales for traveling all the way here to be with us at the launch of the NES.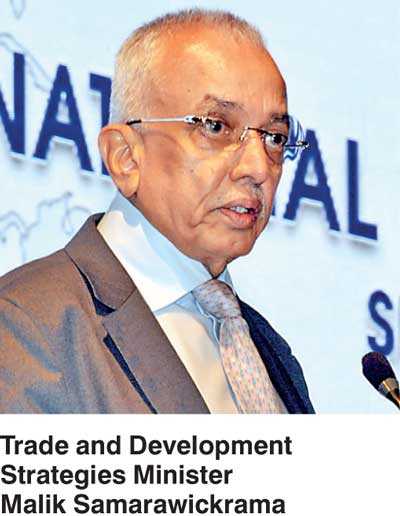 Since 2015, the focus of our Government has been to rebalance Sri Lanka's economic growth from a model that had become over-reliant on government investment and public infrastructure to a model that is more outward oriented, private sector-led, and knowledge-intensive. A model that attracts transformative FDI and a model that encourages producing higher value goods and services for international markets.

Making this transition to an export and FDI-led growth trajectory is challenging. But it is the only option for Sri Lanka – if we are to create better jobs for our young people. It is the only way we can be sure of making a sustainable transition into a higher income economy.

As I said in Parliament, during a debate on the Singapore Sri Lanka FTA, we need to change the trade policies that have been followed up to now. Inward looking, protectionist policies have not brought the results that we seek. On the contrary, when we look at our peer countries such as Singapore, Malaysia, Thailand, Vietnam, Taiwan and so on, we see the rapid development that has taken place in those countries by liberalizing their trade policies and improving the ease of doing business.

While these countries made trade and investment the centre of their development drive, we did not. We now have the chance to reverse that negative trend and try and make up for lost time.

In 2017, Sri Lanka had the highest ever export earnings of $ 15.5 billion and this year I am confident it will rise further to $ 17.2 billion. 2017 was also a record year for foreign investment. FDI inflow was a record $ 1.9 billion last year and I am confident it will rise to around $ 2.5 billion this year.

However, these are extremely low figures in comparison to some of the other Asian countries that I mentioned before. For example, annual exports in Singapore is $ 480 billion, in Taiwan it is $ 340 billion, in Thailand it is $ 254 billion, in Vietnam it is $ 250 billion, and in Malaysia it is $ 230 billion. Even Bangladesh, a country that was a much later entrant to the international trade game, is now at $ 41 billion. Foreign direct investment received by these countries were $ 77 billion to Singapore, $ 12 billion to Vietnam, $ 9 billion to Taiwan, and $ 5 billion dollars to Thailand.

What is very clear is that Sri Lanka has a long way to go, and if we concentrate only on our market of 21 million people, we will never be able to achieve the rapid economic development that we need. Our only choice is to integrate with the world markets, and exports is a key pathway in that.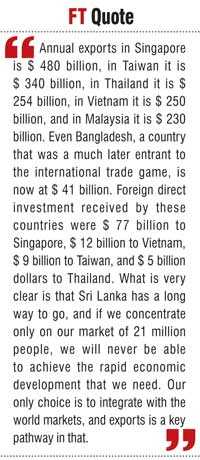 A widely cited study of 44 developing countries showed – using econometric analysis – that greater the level of trade openness, higher the level of per capita income. In other words – economies that traded more with the world, delivered better living standards for their people. Other evidence from around the world also shows that countries that have developed a more complex basket of exports, have seen faster economic growth. Countries that have greater export growth have also seen productivity gains in their overall manufacturing sector.

There is overwhelming evidence on the important role that trade, exports, and investment play in accelerating economic growth. Yet we still have some people who deny this and want to stifle our policy push towards this direction. To them I say – look at the evidence; look at the reality. Put aside narrow political agendas, because really there is only one agenda that is truly at stake here – the future of our youth, the next generation of workers, the next generation of entrepreneurs. For them, we need to shape a country that is integrated with world markets and creates high-paying jobs, NOT a country that is inward looking, isolated and uncompetitive.

Anyone who says we should be careful before opening up because we might not be able to compete, is doing Sri Lanka a huge injustice. Why should we be scared of competing with the world? Look at some of the exporters we have today –our medical gloves are used by the world's best surgeons, our electronic sensors are used in the world's top car brands, our apparels are worn by the world's top athletes, and our IT software is used by the world's leading stock exchanges. We CAN compete. And our industries are already showing how its done.

For those sectors identified as priority sectors under this strategy – the purpose is to focus our minds – the minds of the government officials, the minds of the enterprises in these sectors, the minds of international investors and business partners, and the minds of development partners who want to help us. To focus us to work on these sectors on an urgent and fast-tracked basis, for the next five years.

Yet, some of you may wonder – why is my sector not identified here? Why is mine not recognised. That is not the case – every export sector will gain from the implementation of this strategy, especially from the four 'trade support functions'. These are aimed at supporting all sectors, all sizes of firms, and even those who aren't yet exporters but are aspiring to be. National Quality Infrastructure, Trade Information and Promotion, Logistics, Innovation – these are aimed at helping all sectors and that is why they are included in this strategy.

Before I took on this present role I was an entrepreneur too, and I can attest to how important all these four components are to any exporter. The ability for to get timely testing and quality certification services, the ability for to obtain up to date market information and support for promotion, the efficient logistics to get the products to the customer in a cost-effective way, and support for innovation to develop new products. This is what we want to see with the trade support functions – supporting a whole new generation of enterprises and exporters, in all sectors.

Ladies and gentlemen, with the onset of deep and far reaching technological progress, the nature of cross-border trade and economic relationships is changing at a dizzying speed. Physical goods are becoming more virtual. Services are becoming more tradable. E-Commerce is empowering SMEs to take their products international. This new paradigm demands that we adopt new approaches for competitiveness. Or we risk falling further behind. This is why I believe that the National Export Strategy is so timely, and ushers in a very important era for all of us.

Ultimately, the success of this endeavour will rely on its implementation. We may have had international help to bring the Strategy to this point, but now it is OUR strategy. WE need to commit to driving it forward. WE need to collaborate to ensure things happen. Exports must now be everyone's business, not just one agency or one Ministry.

In conclusion, I would like to thank all the stakeholders- especially the private sector-who gave time generously during the formulation of this strategy.

To the International Trade Centre and UNIDO- thank you for the technical expertise you provided us over the past one year, and continue to provide us.

I want to thank in particular Madam Arancha Gonzalez for her visit to SriLanka for this launch- which demonstrates commitment to our goals at the highest level of International organisations.

Also a big thank you to the European Union for their generous support to this endeavor. They have been important partners in many trade -related programmes being undertaken now, and they would be an ideal source of insight for others who are planning on supporting the trade agenda. Thank you Ambassador Tung-Lai, Department of Foreign affairs and Trade- Australia, UNIDO, Sujeewa Senasinghe- navigating the process, Chairperson EDB and Staff and all government and private stakeholders.

And last but not least, I thank Prime Minister for gracing this occasion and my Cabinet colleagues present here today for their contribution for the development of this sector and solicit your support in the future to achieve the country's export target – 28 Billion Dollars by 2022.
Archives
2021
2020