Trade News
Each day TFO Canada publishes a sample of trade news on the Canadian import market along with any new, updated or changed regulations and legislations regarding international trade; countries in which TFO Canada offers services and on the export sectors which it promotes.
Regional telecoms body launches ICT roadshow in Guyana
Wednesday, July 11, 2018 > 09:03:40
Tweet this
Stabroek News

Released on Tuesday July 10, 2018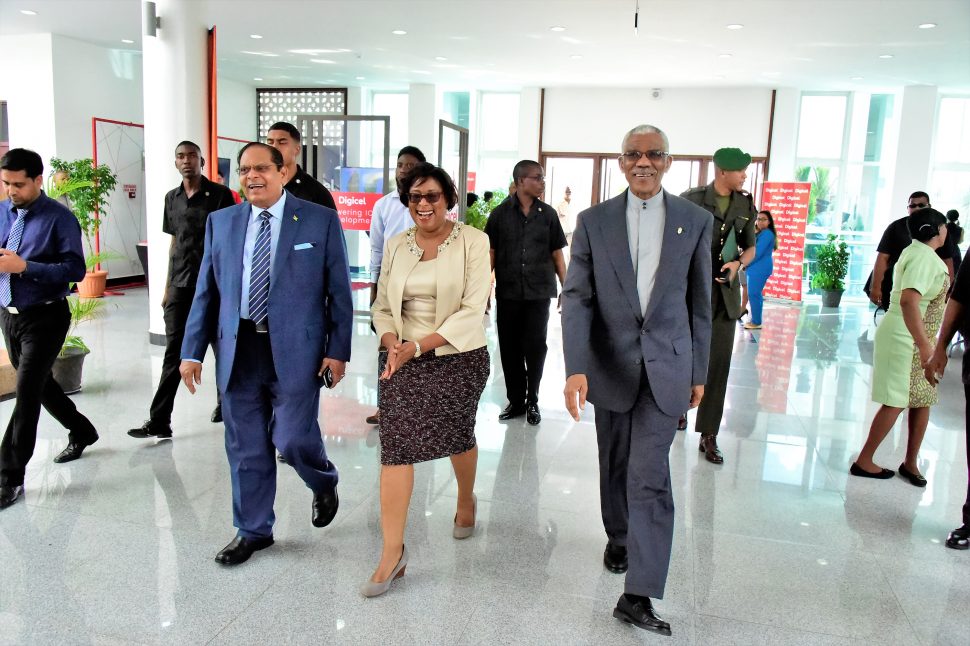 Over the next five days members of the public will have an opportunity to interact with regional experts about how they can use Information and Communications Techno-logy (ICT) to improve every aspect of their lives as the Caribbean ICT Roadshow makes its 24th stop in Guyana.

Started in 2009 the Roadshow is executed by the Caribbean Telecommunications Union (CTU) and crafted specifically to suit the needs of the host country based on stakeholder consultations with the overarching theme of "Harnessing the Power of Innovation – the Engine for ICT-enabled Caribbean Development".

General Secretary of CTU, Bernadette Lewis, speaking at the official opening of the Roadshow held yesterday at the Arthur Chung Convention Centre (ACCC) explained that Guyana is hosting its first in the 24th series of the event meant to raise awareness and educate on the transformative potential of ICT.

"The roadshow seeks to encourage productive, beneficial use of ICT to promote innovation and entrepreneurship and to dispel the fear people might have about technologies, and spark the imagination of ordinary citizens of the power of ICT to enhance and transform all that we do or that they're involved in," she stressed adding that as more and more of our lives become entwined with technology, citizens who do not embrace the technology will find it increasingly difficult to participate in everyday activities in their countries.

Focusing on the cross-cutting nature of ICT, Lewis explained that it touches every sector and has the potential to transform every sector if innovation is used.

She explained that over the next few days presenters will offer insight into how ICT can improve the life of those living with disabilities, transform the agriculture sector, act as a bridge between the coast and hinterland and offer unemployed youth a new means by which to enter the workforce.

This series of Roadshows is however specifically set to focus on raising awareness and educating on the principles of 21st Century Governments.

"The goal is to establish citizen-centric seamless Governments that are fit for purpose in the 21st century," Lewis explained adding that such governments are faster, cheaper, efficient, effective and transparent.

She stressed that each of the 18 countries previously visited by the Roadshow has seen transformation in their ICT sector and expressed the hope that the visit to Guyana will bear similar fruit.

The CTU anticipates that the establishment of 21st Century Government will transform the public service, strengthen economic competitiveness and promote sustainable development.

Minister of Public Telecommunications Cathy Hughes with whose ministry CTU is collaborating noted that countries which have harnessed the full potential of ICT have attained significant social and economic development and are rapidly transforming into information and knowledge-based economies.

"ICT led growth is creating jobs, raising productivity… and opening many opportunities to increase trade and human development. Extensive application of ICT provides opportunities to create new ways to create wealth thus creating and contributing significantly to poverty alleviation. This sector has become the engine for growth", Hughes said.

She explained that increased ICT penetration over the last two decades has created new opportunities which have been recognized by the government which is developing a policy to best operationalize this resource and create a digital Guyana.

"We will show inclusion especially for those who are differently-abled. We will highlight our local content and the wonderful work that they're doing in the tech field and most importantly, the opportunities and what our future can look like using ICTs," she added calling on both the Public and Private Sector to think outside the box and strategically allocate jobs for those who are visually and hearing impaired while working to offer jobs to suitably qualified and competitive local talent rather than foreign companies.

President David Granger who delivered the feature address stressed that "ICT must drive the establishment of paperless agencies, departments and ministries. It must promote greater use of non-cash financial instruments. E-government must make public services more accessible; e-business must facilitate commerce, investment and trade."

The Head of State later told reporters that his government will continue to provide financial support for ICT projects.

Noting the "spatial problems" which leaves citizens east of the Essequibo better served than those living west of the river Granger expressed gratitude to "friends" such as the Government of China which has offered financial support for projects such as the One Laptop per Teacher.

The ICT Roadshow continues today and will include an outreach to Annai, Region Nine on Wednesday and East- Berbice Corentyne on Saturday.
Archives
2021
2020